Macstock 2019
While I'm a longtime Mac user, I've never been to either of the big gatherings of Apple faithful. I never had the chance to make it to Macworld Expo and not being a developer or Mac journalist I haven't been to WWDC. However, when I heard about the Macstock conference on some podcasts and read some people's experiences there on the Mac Power Users Forum, I was intrigued. When they offered tickets for this year's conference at a substantial discount on Cyber Monday, I decided to take the leap and signed up.
Before the Conference
I flew to Chicago on Thursday and paid a quick visit to some relatives in northern Illinois. After returning my rental car on Friday, I took the L into the city and sampled some deep dish pizza (something that I'd missed on my previous trip to Chicago). I took the train back out to Crystal Lake and hit the Friday night Midwest Mac Mingle Mixer at a restaurant next to the hotel.
Saturday
Macstock proper kicked off on Saturday morning. There were a bunch of great presentations. The schedule was set up with short 20-minute presentations from each presenter in the morning with longer 45-minute "deep dives" in the afternoon. The morning presentations were all on the main stage, one after the other. The afternoon presentations were split between the main stage and a breakout room, so sometimes you'd have to choose between two speakers (and there were some difficult choices).
Allison Sheridan had a cool presentation that took advantage of links between Keynote slides to tell a series of interlocking stories about her experiences in the Mac podcast space. At the end of the afternoon session, she dove into the technical details of how she set that up. Chuck Joiner spoke on giving great presentations. To show what not to do, he had some good real-world examples of really terrible slides that he's seen in his day job.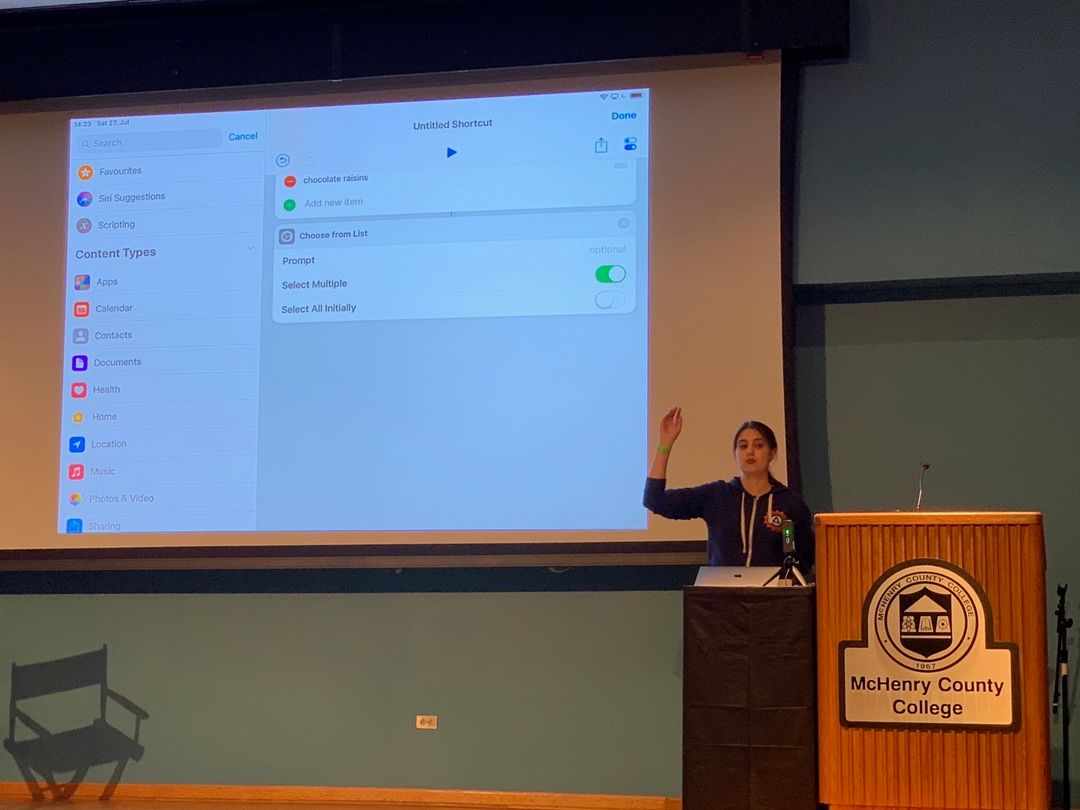 However, the highlight of Saturday's presentations was definitely Rosemary Orchard's presentations on using Siri and Shortcuts. She had some great demo shortcuts and did an excellent job starting with the basics and ramping up to some really high-level stuff by the end of her deep dive.
Perhaps the most hilarious moment of the day came when an attendee was going down the lunch line asking if anyone had experience taking an iMac apart and ran into Stephen Hackett. As a former Apple Genius and authorized service provider, Stephen was made for this moment. He spent the lunch break completely disassembling the iMac and upgrading the RAM and SSD.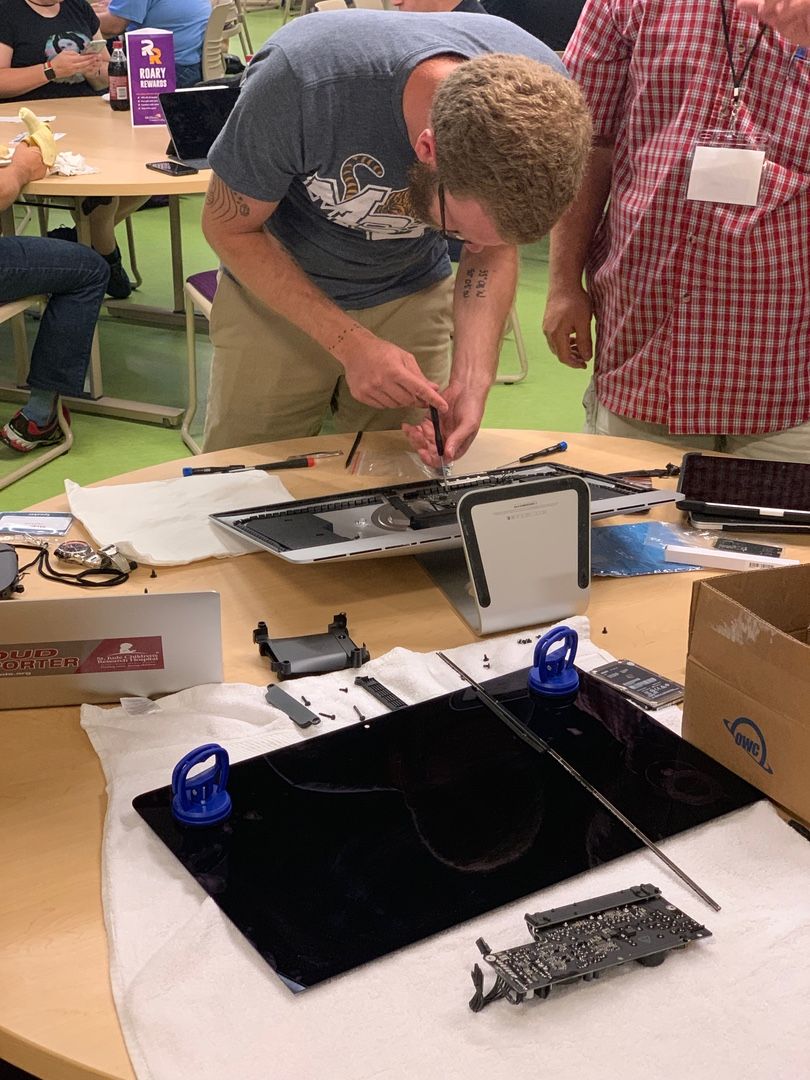 The day finished off with the taping of Mac Power Users episode 500, which was in a class by itself. Keen MPU listers will note that as of this writing, the most recent episode is #493. Stephen and David are going to keep this in the can until it's time for episode 500 to publish in September. Stephen asked the audience not to post any spoilers, so I'll just say that he and David did an excellent job and they created a fitting 500th episode for this great podcast.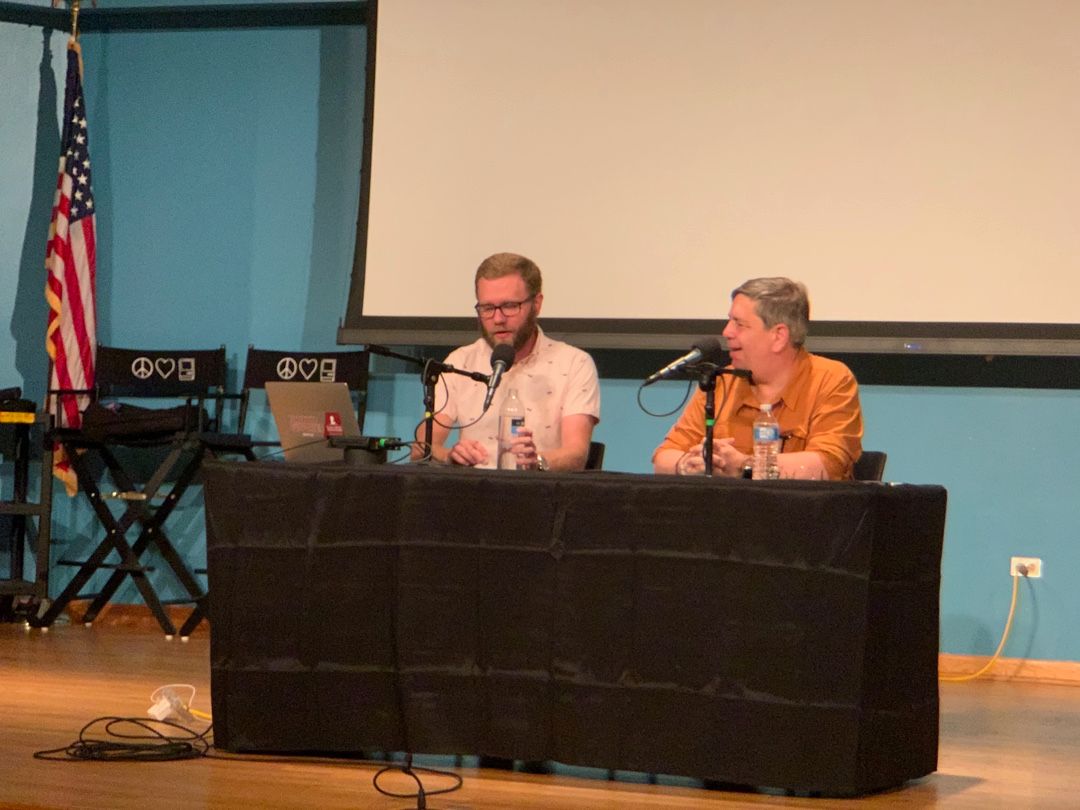 After the MPU taping, we all shuttled back to the hotel and had a nice catered dinner, followed by lots of great conversation among like-minded folks.
Sunday
Sunday kicked off with a preview of the Macstock Short Film Fest. They showed a couple of very cool short films that had been submitted by Macstock attendees. The rest of the day followed the same pattern as Saturday, with 20-minute presentations in the morning and longer 45 minute deep dives from the same speakers in the afternoon.
David Sparks had an excellent presentation on how to make time to do your creative work. I've read David's Presentations Field Guide and heard him talk about presentations on MPU, but this is the first time I've seen him present in person. He did not disappoint (very smooth and very funny). He had some great points on how and why to make time for creative endeavors along the lines of what he's been talking about lately on Focused.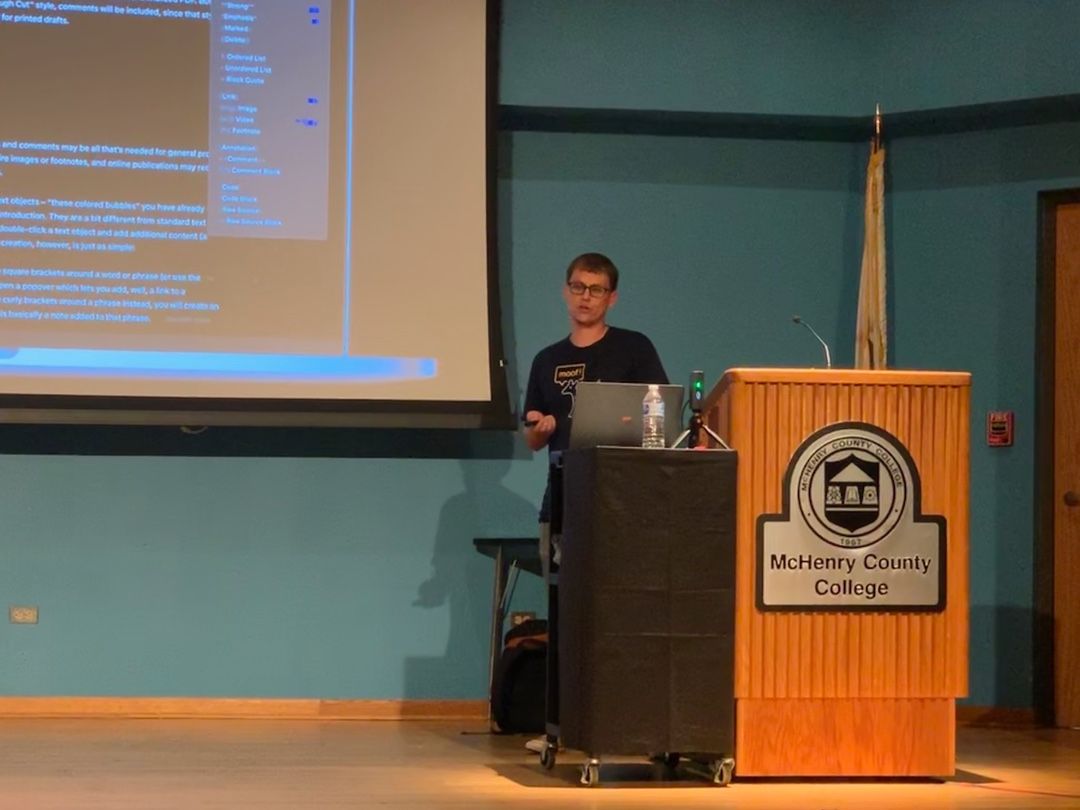 Speaking of Focused, David's co-host Mike Schmitz followed him with a pair of great presentations on Ulysses. They were about 2/3 tech talk with lots of great detail on how to be productive with Ulysses and integrating it with apps like MindNode, Aeon Timeline, and Deckset (Deckset is particularly tempting, if frustrating since I've pretty much switched to the iPad for all my mobile computing needs). The remaining third of his presentations focused on bigger picture issues with doing creative work, including some inspiring words on creativity and creating a writing habit.
Josh Rensch had a great morning presentation. It was nominally about kitchen workflows, but really about effectively bridging the divide between nerds and non-nerds a relationship. It was also a masterclass in a rapid-fire presentation style (246 slides in less than 20 minutes). Unfortunately, I missed his afternoon presentation because it conflicted with David's.
How do you draw a crowd at Macstock?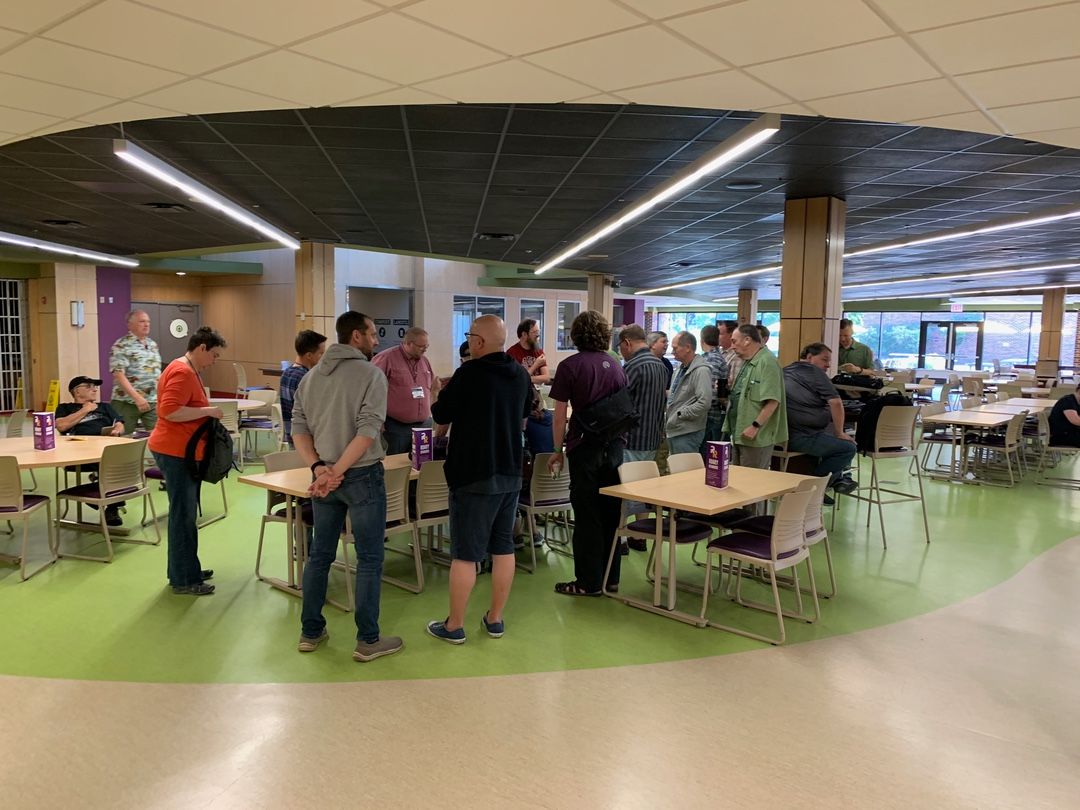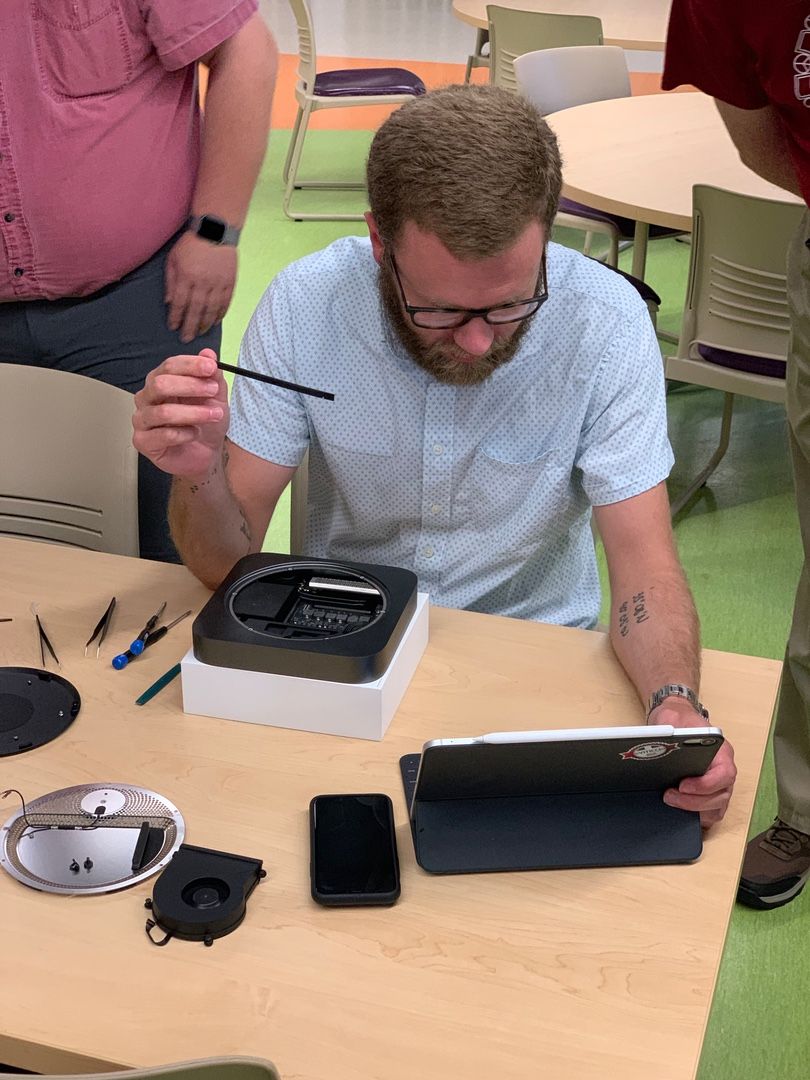 Disassemble Rosemary Orchard's Mac mini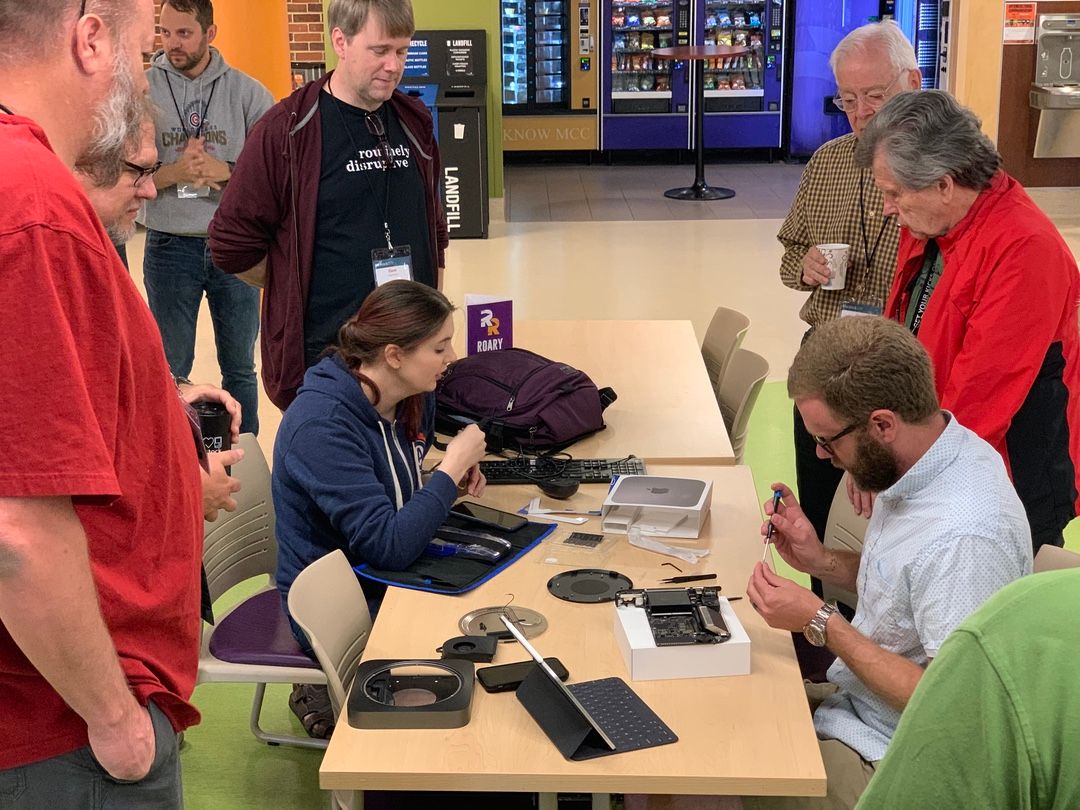 Brett Terpstra (drink!) had a good talk on writing workflows. I missed the morning portion (I was hanging out while Stephen disassembled Rosemary's brand new Mac mini for a RAM upgrade) but the afternoon portion was very well done. I'm looking forward to seeing Brett and Josh's full presentations when the videos go up online.
While Macstock was not quite over (there was one more afternoon speaker session and the film festival), I had to head out and catch the train into O'Hare for my trip back.
Macstock was an awesome experience. The talks were great, but the true highlight was all of the great folks in attendance. While I love talking about nerdy stuff online (like on the Mac Power Users forum) I seldom get a chance to sit down and talk with people who have a passion these things in person. Being able to sit down at any table during lunch, or turn to the person next to you in the audience during a break and talk about the tech and productivity stuff we all love is an experience that I really treasure.
---
Previous post
Personal Retreat - July 2019
I recently did my third personal retreat. I got quite a bit out of my first two retreats earlier this year and I was really looking forward to this
Next post
This post will be obsolete with iPadOS 13
My transition to using the iPad as my primary travel computer was a gradual one. It started with leaving my laptop at home on purely personal